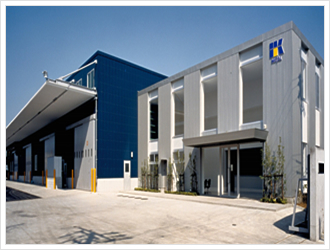 The Casting Section of the Die Production Division is working toward its goal, to offer high technology through the fusion of experience and potential ability, which we aim to realize with "Accumulation of know-how and flexible conception."
At this plant, we have been working to meet customers' requirements, such as short lead time, low cost and high quality, by establishing manuals to standardize automated production processes minimizing line attendants, processes to recycle sand for casting dies and casting processes.
Recently, we have set about a study to cope with increasing die size with a unified parts control system. In recent years, it has become a standard practice to cast casting dies in a near-net shape as a result of the advancement of computers and machining tools.
To carry out die production at a minimum processing cost (low price), we are also addressing various improvements desired of as-cast works including producing dies "free of arching," "with as few pin holes as possible" and "free of overlooked safety issues for prototype parts fabrication."
The Casting Section of the Die Production Division is striving day and night to allow our customers to feel for sure the necessity, importance and advantages of developing dies for prototype parts fabrication.